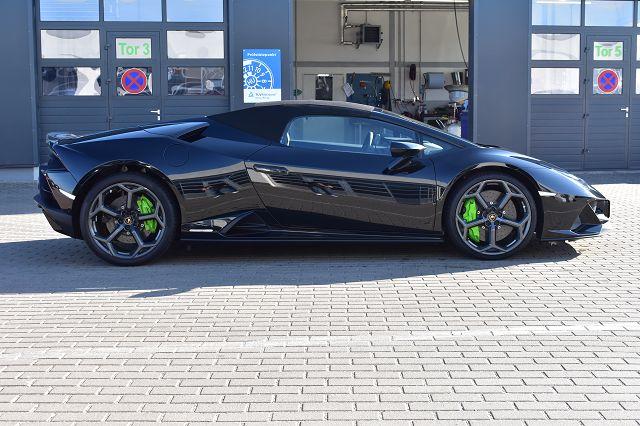 Lamborghini Huracán Evo Spyder
The Huracán EVO Spyder delivers 640 HP (470 kW) at 8,000 rpm and a torque of 600 Nm at 6,500 rpm. With an unladen weight of 1,542 kg, the vehicle achieves a power-to-weight ratio of 2.41 kg/hp, accelerates from 0 to 100 km/h in 3.1 seconds and from 0 to 200 km/h in 9.3 seconds. The braking distance when decelerating from 100 to 0 km/h is 32.2 m, the top speed is 325 km/h. Open the top and enjoy the brutal sound of the V10 naturally aspirated engine and experience the Lamborghini Huracán Evo Spyder for yourself.
In order to be able to offer our customers always the newest and most exclusive vehicles, our fleet is constantly changing. Therefore, there may be deviations in color and equipment of individual vehicles. With pleasure we also offer you special arrangements or a long-term rental of our vehicles. On request we deliver the vehicle to your preferred location throughout Europe and pick it up again at the end of the rental period. Talk to our staff to get a non-binding offer. A fully comprehensive cover is already included in the rental price. As a security we take the liberty of charging a deposit. You can either transfer this in advance or deposit it when you pick up the vehicle by credit card, EC card or in cash.